OUR NEW GRADUATE PROGRAMME
Every year we aim to offer new graduates a one-year structured and supported "internship" within each of our departments. How many we offer depends not only on our current requirements but also on how much training and mentoring the team is in a position to offer. Through our inidividual programmes, we want you to become clinically confident, a good decision maker and a team player, thus helping you thrive in practice and enjoy a lifelong career in veterinary medicine. Become the vet you want to be. In 2023 we are still welcoming applications for our Small Animal team programme.
GVG NEW GRADUATE INTERN PROGRAMME - click for details
Harry Parker (intern Aug2021-22)
"I found the new graduate programme the perfect cross roads from university into veterinary life. I was able to embrace a busy out-of-hours rota surrounded by a supportive and progressive team. It gave me an excellent grounding in medicine and surgery through a varied caseload and our colleagues ensure everyday is full of laughs and exciting challenges. I would fully recommend the program to any enthusiastic new-graduates looking to progress rapidly into a well-rounded veterinarian."
EQUINE NEW GRADUATE PROGRAMME - click for details - not available for 2023
FARM NEW GRADUATE PROGRAMME - click for details - not available in 2023
PIG INTERNSHIP PROGRAMME - click for details - filled for 2023, no longer accepting applications
Please use the email address contact within each department document for all applications, with CV and covering letter
EMS and IMR STUDENT OPPORTUNITIES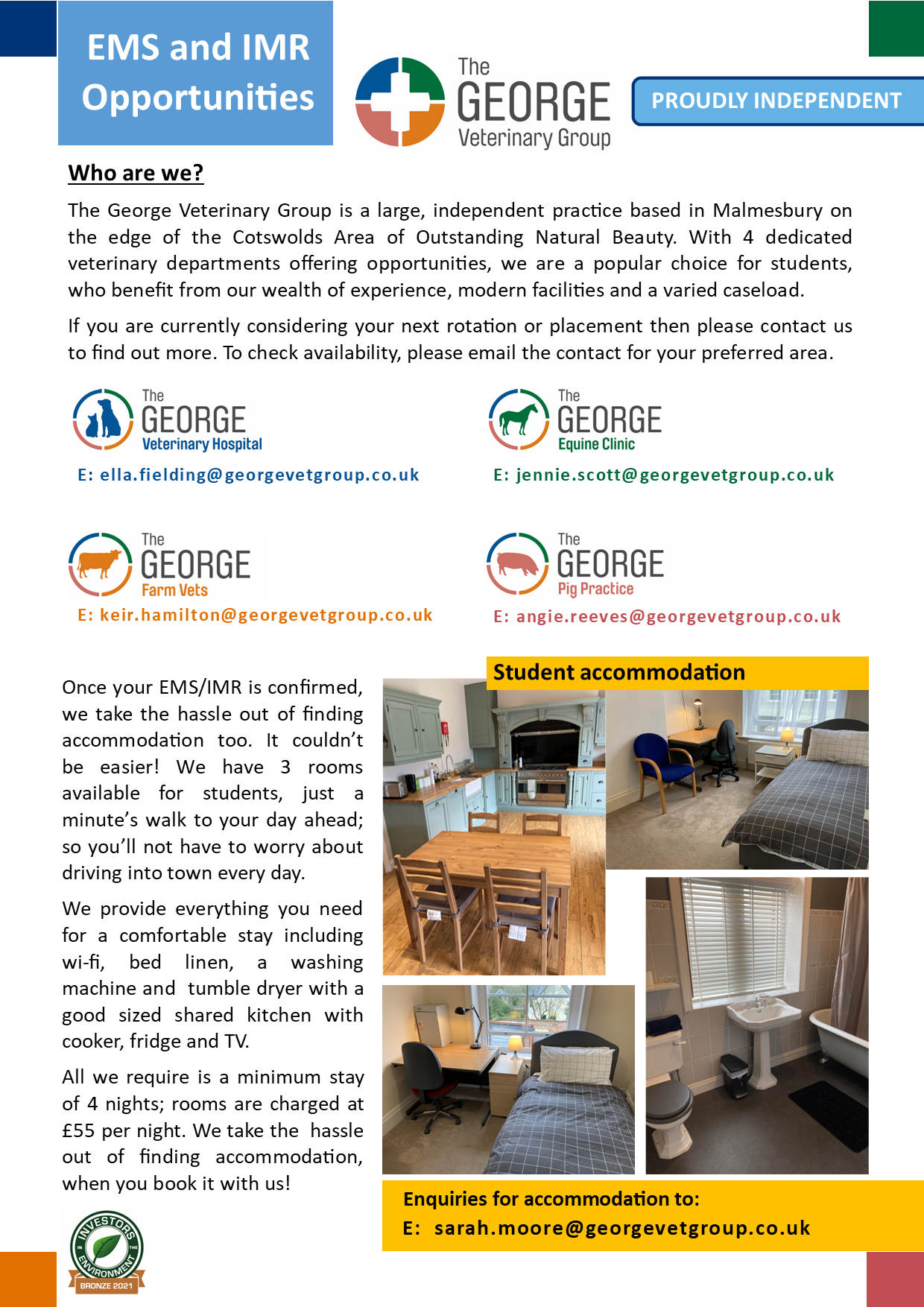 Students benefit hugely from seeing practice with The George teams. We aim to expose you to as much practical experience as possible to ensure your time with us is beneficial. All we ask for is enthusiasm! We take students in each of our four departments: equine, farm, pig and small animal. We hope that students seeing practice may be potential candidates for our new graduate programmes in the future. If you are interested in seeing practice through EMS at the George please fill in the application form below and email to the relevant contact indicated. For IMR placements please enquire and then discuss directly with your University who will contact us for placements.
PLEASE NOTE: We are currently unable to offer an availability from March 2024 until January 2025 within the FARM department as we are fully booked

Equine: jennie.scott@georgevetgroup.co.uk
Farm: keir.hamilton@georgevetgroup.co.uk
Pig: angie.reeves@georgevetgroup.co.uk
Small animal: ella.fielding@georgevetgroup.co.uk
For IMR placements please contact your University directly who liaise on your behalf. If you have any queries please contact us on 01666 823165. We look forward to meeting you.
WORK EXPERIENCE OPPORTUNITIES
At The George Veterinary Group we offer work experience as a week-long programme across most disciplines within the business for those 16 years and older. This allows us to present a more rounded approach to veterinary care covering pets, administration, nursing roles, and visits both at the Hospital as well as out "in the field" with ambulatory vets. We are pleased to take on any students who are genuinely interested in veterinary care and who want to learn more about what we do. Please note that we cannot accept any students under the age of sixteen.
We receive a lot of enquiries about opportunities for work experience, but if you would like to be considered then please email: workexperience@georgevetgroup.co.uk